Home > Technical Information
> SAMICK LINEAR BUSHING > Lubrication and Friction


Linear Bushing is used with grease lubrication or oil lubrication but in some case, it is used without any lubrication.
Grease Lubrication
Before applying the grease, the anticorrosive oil must be removed by kerosene or organic solvent, and applying the grease after drying. Must Applying grease directly on the ball for both side sealed type (UU), and applying same as above or applying on the shaft for without sealed type. Lithium soap radical of viscosity mark (JIS No. 2) is recommended for use.
Oil Lubrication
There is no need to remove anticorrosive oil when oil is used for lubrication. ISO viscosity grade VG15~100 oil is usually used according to the temperature. The turbine oil, machine oil, and spindle oil are usually used as lubrication oil. Drop the oil on the shaft for lubrication, or supply it through an oil hole provided on the housing (Fig 6). However, dropping lubrication is not used in both seal type because the seal remove oil, because. Contact SAMICK for Linear Bushing with lubrication hole for user's demands.
| Operating Temp | Viscosity |
| --- | --- |
| -30℃ ~ 50℃ | VG 15 ~ 46 |
| 50℃ ~ 80℃ | VG 46 ~ 100 |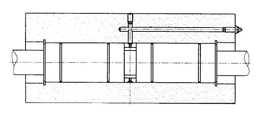 Coefficient of Friction
Linear Bushing has balls as rolling elements, so it gives rise to reduces the frictional resistance. Static friction, in particular, is very low, and there is just little difference between static and dynamic friction, so, that stick-slip does not occur. Such low friction makes submicron feeding possible. The normal friction coefficient is on Fig below, and the Friction resistance can be calculated by following equation.

Coefficient of Kinetic Friction