Home > New Product Information > Picker Actuator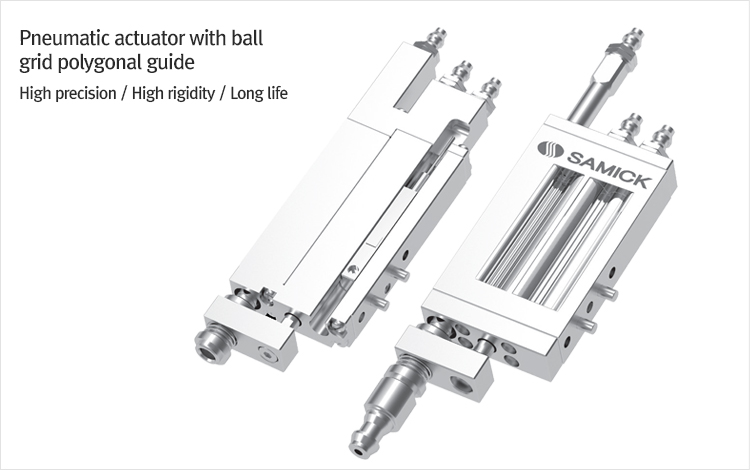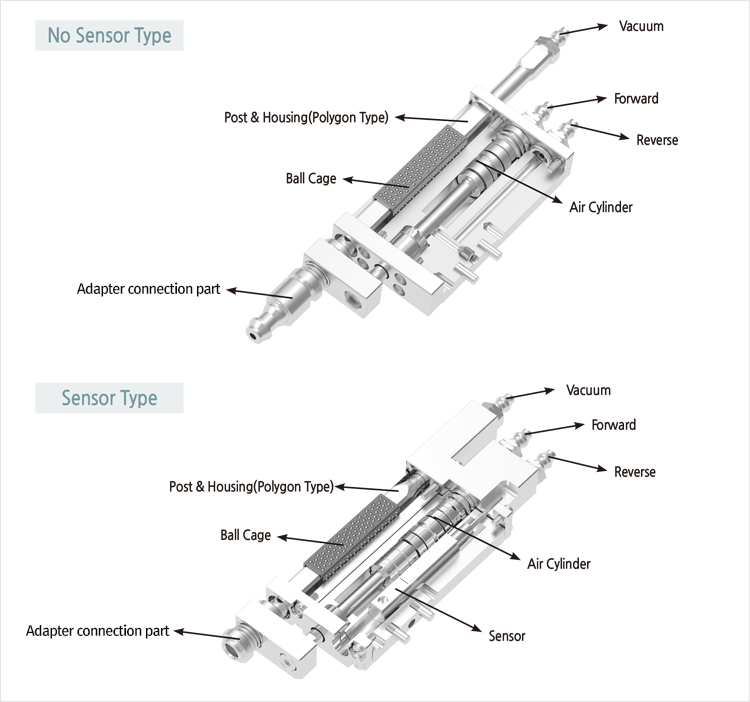 Features
1) High precision : S table accuracy maintained by ball-grid polygon guide
2) High rigidity : Polygon guide minimizes blurring and vibration, improving straightness
3) Long service life : Ball-grid guide structure on a polygonal shaft maximizes contact area, providing increased load capacity and longer service life

Usages
Ideal for systems transporting or sorting small parts, such as semiconductors, LED chips, and small lenses
Specifications and dimensions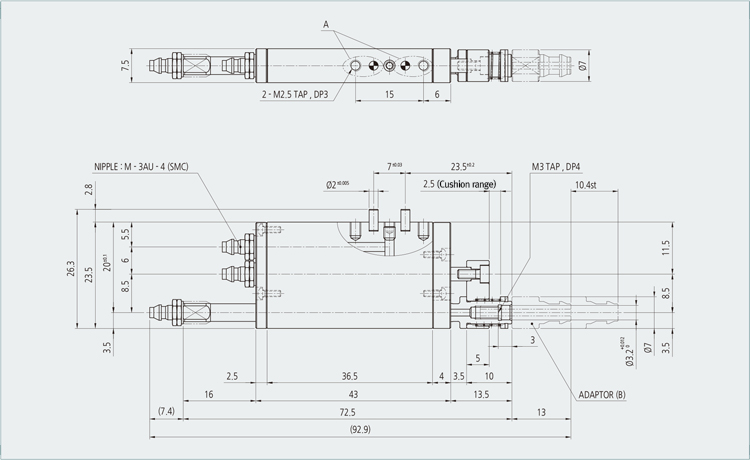 | Items | Specification |
| --- | --- |
| Guide POST | PBG05 (Basic static load rating: 250N, Basic dynamic load rating: 180N) |
| Guide preload | 20 ~ 40g (Initial rolling resistance) |
| Guide run-out amount (1) | Under 30㎛ |
| Size(Width x Height x Thickness) | 23.5 x (91.9) x 7.5 |
| Weight | 50.5g |
| Installation hardware (A part) (2) | M2.5 - 2 places , Basis pin(Φ2) - 2 places |
| Operating temperature range | 0℃ ~ 80℃ |
| Operating pressure range | Max. 5kgf/㎠ , Min. 1.5kgf/㎠ |
| Thrust under zero load | Max. 1400g, Min. 423g |
| Air, vacuum nipple | M3 Tap |
| Repeatability of forward movement | ±0.02mm |
| Stroke | 10mm |
| Spring constants on cushion part | 30g/mm |
| Lifespan (3) | 5 million stroke |
| Adaptor (B part) (4) | M3 Tap fixing |
Note 1. The amount of run-out when applying 400gram tension to post orthogonal direction during the movement
Note 2. Custom design available for installation hardware
Note 3. Lifespan will be determined in accordance with the conditions of use under the air pressure 2kgf/㎠ .

The lifespan may be different depending on the operating environment.
Note 4. Adaptor shape is available upon customers' request

video
Technical inquiry sheet * Please print out the download file, fill in the necessary information, and contact us by FAX or E-mail.