Home > Technical Information > Guide Master
> Guide Master Installation and Use


Before Installing your Guide Master :
- Clean and Clear the Installation Area of any Particles or Debris.
- Keep the Post and Sleeves in Pairs-They are Supplied as a set (Post and Sleeve Pairs are Marked)
- Be Careful not to Apply a Z-axis (Along the Line of the Post) Moment Load to the Guide Master tm During Installation.
Installation
1. Ensure Mounting Holes of Guide Post and Sleeve are Properly Aligned.
2. After Cleaning the Mounting Hole of the Die Holder, Affix the Post to the die With Fasteners. The Post Needs to be at a Right Angle to the Die Surface (Less Than 0.01mm per 100mm is Required).
3.Insert Guide Posts into Sleeves. Sleeves and Guide Posts are Marked as Sets, so Ensure they are Paired up Appropriately.
4. Place the Punch Block Over the Parallel Block on the Die Holder. Slide the Sleeve up and Down to Check for Interference.
5. Be Sure all oil and Contaminants are Cleaned off of the Mounting Holes of the Punch Block. Insert the Sleeve in Mounting Holes of Punch Block and Secure With Anaerobic Adhesive (Loctite 635 or 638). Let the Adhesive Cure for 3-6 Hours at Room Temperature Prior to Operation in a Position Where the Sleeves do not Protrude From the Punch Holder.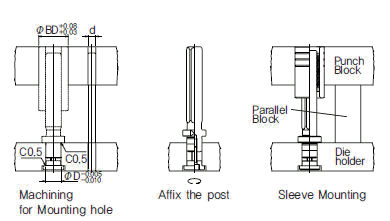 Working Environment
Operating Temperature : Not to Exceed 80¡ÆC (Call SAMICK for Higher Temps.)
Keep all Surface Areas of the Guide Post Free of Dust and Contamination.
Additional Protection is Required for the Guide Master tm if Volatile Oils are Used That React with the Guide Master tm Internal Iubrication oil. Contact SAMICK for more Information.
Note
- Keep Clean the Installation Area
- Check the Paring Marks of Post and Sleeve Because of the Guide Master is Supplied in a set of Post and Sleeve.
- Verification of the Assembly Direction Detween Sleeves and Post is not Necessary When Sleeves Adhere.
- On Mounting the Guide Master, the Moment to Rotational Direction Should not be Applied.
- Lubrication is Required. (Need Regular Lubrication)
- Minimum Stroke Should be Over the Needle Roller Diameter (¡×DR) X ¥ð. If the Value is Less Than the Needle Roller Diameter (¡×DR) X ¥ð, This can be a Performance Degradation Factors.
- Recommending Stroke is Less Than the Retainer Protrusion From the Sleeve - Post-Length Should be Selected to Prevent Sleeves Falls From Post in the top Dead Point When it is in Press Working.